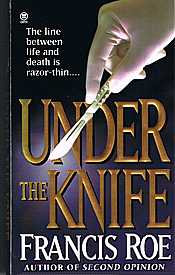 A DOCTOR UNDER SUSPICION... A PATIENT'S LIFE ON THE LINE
Dr. Mike Richmond has just joined Connecticut's most prestigious medical practice. For the brilliant young surgeon, it is a career-making opportunity.
But it comes with a chilling price.
It begins with a critical error in judgment that puts a woman's life at grave risk. Then a patient inexplicably dies. As more and more people meet suspicious deaths-and Mike is blamed - he realizes he's a crucial link in a diabolical conspiracy that runs deeper than he could ever imagine. Following an intricate chain of deception, he enters the inner sanctum of a clandestine medical community, where a shattering discovery waits.
In a world where men play God, the incision is swift and death is only a knife edge away....