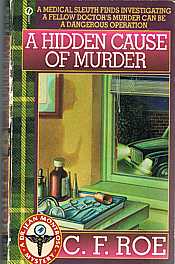 Dr.Jean Montrose deals with human weakness and death as a natural part of her profession. But the blood running from under Dr. Diane Shulman's office door suggest something very unnatural.
Scotland's Dr. Montrose is terrified when she finds he partner's body. The young physician was a difficult colleague, disrupting their shared office by treating drug addicts and alcoholics. Now she fears Diane's choice of patients got her killed.
Perth police inspector Douglas Niven thinks something else may have led to Diane' murder - like the malpractice that caused a distraught patient to threaten her life. Unfortunately the only person with means, motive, and opportunity is Dr. Montrose herself. In danger of being indicted,
Jean Montrose realizes the case needs her expert diagnosis of the hidden causes of this brutal killing:: bare bones of jealousy, dangerous secrets of the heart, and wicked passions of the flesh that usually begin with love...
First published in 1996