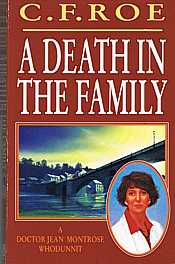 Rory McDermott's poaching expedition lands him an unexpected catch: the body of a young woman who has been in the river Tay for several days. When the post mortem reveals that Moira Dalgleish was already dead when she hit the water,
Inspector Douglas Niven has a murder enquiry on his hands. One that his superiors are particularly anxious should be solved with the minimum inconvenience to the Dalgleish family.
Finding his investigation blocked at every turn, Doug is forced to look beyond the obvious suspects. But it is not until he enlists the help of Perth GP Jean Montrose that the tangled web of deceit and corruption is finally and dangerously unravelled.
The alternative name of this novel is "A relative act of murder "
First published in 1993