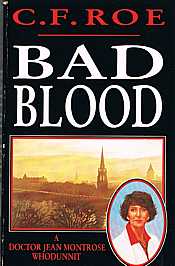 When Graeme Ferguson's overturned red Porsche is found off a lonely, country lane near Strathalmond Castle, even his mother suspects it is no accident. He was shot in the back of the head at close range, and Inspector Douglas Niven finds himself in charge of a murder investigation.
Ferguson, an apparently successful and affluent bachelor, had been engaged to the Earl of Strathalmond's daughter, and had more than his fair share of enemies: business rivals, envious colleagues... and. some very jealous women.
Niven soon finds himself out of his depth, but even after Dr Jean Montrose gets involved, it takes all her courage, "medical knowledge and her profound understanding of the psychology of murder before the case is finally and chillingly solved..
The alternative name of this novel is "A classy Touch of murder "
First published in 1991